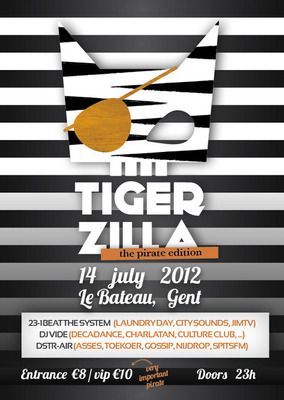 TIGERZILLA is a party concept for the les & bi minded girls and friends at Le Bateau.
Yes, it really is on a boat. Don't worry, we are not going far. We're only sailing off to your dream world. Where champagne, cava and cocktails are within your reach and brownies (by Quetzal, the chocolate bar) are free.
So, Tigerzilla sailed back after a 3-month-stop…
But it wasn't a good trip. Le Bateau got conquered by pirates.
Maybe they'll leave if we throw an awesome party?
★ Extra's ★
- make your choice at the entrance: are you a regular Tiger (€8) or a V.I.P. (Very Important Pirate €10)? Thanks to our new sponsor, Havana Club, V.I.P.'s receive a Rum-Gini cocktail and a pirate eyepatch
- 2 bars: one on the upper deck and one below
- Tents on deck (and heatening if it's cold)
- what's the future holding in for you? Make a stop at our fortune teller on deck and find out!
TIGERZILLA TEASER:
http://www.youtube.com/watch?v=3vKEaVe0nlc
So it's on a boat, what's next? Since a lot of girls were begging for a party with a focus on hiphop & R'n'b. here it is. Although, the first and last DJ will give you a mix of electro & R'n'b.
▆▆▆▆▆▆▆▆▆▆▆▆▆▆▆▆▆▆▆▆▆▆▆▆▆
★ 23-1 BEAT THE SYSTEM (Laundry Day 2011, City Sounds, JIMtv, Rock Ternat, Jospop, Bal van de student)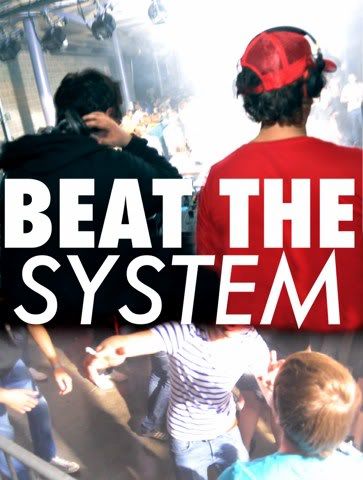 Put Dossch-Y, Keylocked, SDC & Fred Aster together and you have BEAT THE SYSTEM. They throw all kind of styles in a blender, from RnB to commercial clubhouse and fresh electro, to make live mash-ups! They won't forget about the classics. Promise.
http://www.facebook.com/pages/Beat-The-System/
▆▆▆▆▆▆▆▆▆▆▆▆▆▆▆▆▆▆▆▆▆▆▆▆▆
★ 1-3 DJ VIDE (Lime, Club69, Charlatan, Culture Club)
As a child (10 years) Vide was always inspired by the songs his mother played (Michael Jackson, Bob Marley). He could not stand still to the music and he knew he was going do to something later with music. The sense of rhythm and love of music were there already present. Now at the age of 23, nothing has changed.
When he was 17, he got in contact with DJ Rakka (then Rakkalicious) and the "Jeugdhuis Krak Avelgem". This DJ Rakka was busy with his event "The Raggalicious Show" (Now: TheLicious). Vide made it into the concept of this party and played in several editions. Through this party, the DJ could grow his name, and he was noticed by other organizations.
After skimming a few local parties, Vide met other DJ's whom he started organizing events with like DJ Drizz (Ronse) who was resident at "The Replay" in Ronse (Now: Bar d'Or). By that concept in "The Replay" he came into contact with many other DJ's such as Black Frank - now his godfather in the industry, DJ Krizz and Stylistic and many others.
http://djvide.tumblr.com/
▆▆▆▆▆▆▆▆▆▆▆▆▆▆▆▆▆▆▆▆▆▆▆▆▆
★ 3-5 DSTR-AIR (ASSES, TOEKOER, GOSSIP, NIJDROP, SPITSFM)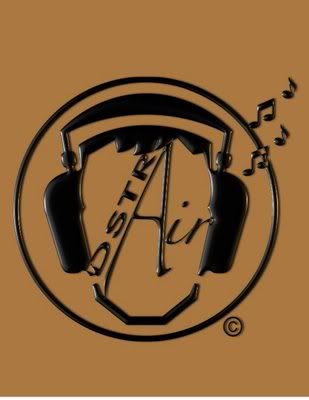 DSTR-Air started spinning in 2005 as a member of the SMPU-crew. Started out with electro and house but his love and interest for more, leaded him to subgenres. Now his primary DJ-ing consists of hiphop and dnb. Known from SpitsFM and Decadance, his starting to make his own audience.
Still need to be convinced?
http://www.facebook.com/pages/DSTR-Air/147151535316317
▆▆▆▆▆▆▆▆▆▆▆▆▆▆▆▆▆▆▆▆▆▆▆▆▆
✘ Entrance: €8 (regular)/€10 (Very Important Tiger: free Rum-Gini + pirate eyepatch)
✘ Doors: 23h
▆▆▆▆▆▆▆▆▆▆▆▆▆▆▆▆▆▆▆▆▆▆▆▆▆
✘ Public transport
From the train station, every bus that goes to 'Gent Zuid': Bus 55S, 58 & 42.
▆▆▆▆▆▆▆▆▆▆▆▆▆▆▆▆▆▆▆▆▆▆▆▆▆
✘ Hotels
IBIS:
http://www.accorhotels.com/nl/hotel-096 ... ndex.shtml
FLANDRIA:
http://www.hotelflandria-gent.be/
HANCELOT:
http://www.hancelot.be/
▆▆▆▆▆▆▆▆▆▆▆▆▆▆▆▆▆▆▆▆▆▆▆▆▆
✘ Parking
Parking 'Gent Zuid'. Located 20 metres away from the venue.
http://www.lebateau.be/
http://www.quetzal.be/
http://www.aventi.eu/
http://www.cestfou.be/
http://www.havana-club.com/
▆▆▆▆▆▆▆▆▆▆▆▆▆▆▆▆▆▆▆▆▆▆▆▆▆
✘ Put yourself on attending:
http://www.facebook.com/events/267914373315887/
http://tigerzillagent.wix.com/tigerzillaboatparty